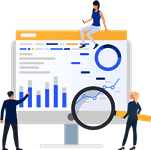 Our Staff;
We have a team of experts and professionals, whose major and primary objective is to provide clients with the most reliable assistance. We specialize in data analysis, providing the best assistance in interpreting, evaluating, and illustrating statistical & geographical, or geospatial data. We provide very reliable and comprehensive 24*7 customer support through our live chat system, emailing, and phone.
Work Policy;
We try our best to be part of each client's project or work from the level of an inquiry, to help guide on the best way to work on any respective project. Our primary aim is not to make money but we strongly believe in offering workable data solutions that make any analysis process very successful. Our team will normally assess your work and first give expert opinion in terms of the best techniques, tests or simulations, or software to use for best results.
Customer Assurance;
Even if Data Analysis Help has been of great assistance to many clients looking for data analyzing services. We cannot say that we are the only place where quality services can be found, but we can boast of being a place where clients in need of a better understanding of data leave with a smile. When you are looking for experts who have specialized in data solutions and data research services, then you have a reliable helper in us. Our experts are regularly taken through professional training and reviews giving us the chance to be most reliable when it comes to providing top-quality services.
Our Commitment;
With the awareness that data evaluation does not allow room for guesswork or assumptions, we have ensured that our team is composed of trained and skilled experts. We equally ensure that we are always on our toes to improve our services to see that we always provide the best. Our services are offered with the utmost professionalism, making sure that every client who visits us is provided with quality help. We are committed to not disappointing you, considering that right from prices, time, and privacy your expectations shall be met.