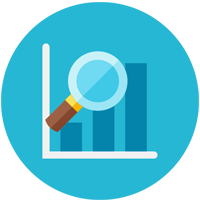 If you are a student working on a paper that requires data analysis such as a statistical research project or a dissertation on the location of features and boundaries around the earth, the major challenge you are likely to face is getting a better understanding of the data and materials that you've gathered. This is exactly a good reason to seek professional help with data analysis. You can never carry out a successful project whether it's a statistical or geographical data study, without first knowing the best data set or sample, the analysis method, the software to use and any tests or simulations to do. We have Statistical and Geo-Spatial data analysts who are capable to help with your GIS or statistical analysis.
---
Affordable Statistical & Geographical Data Analysis Help
Due to minimal time, insufficient resources and at times lack of professional skills, anyone who is working on a statistical analysis chapter, geographical data processing assignment, may require some expert analysis help or statistician input or support on how to work with varies data management software.
This is where comprehensive data analysis and interpretation assistance is required, and many service providers are expensive and you may find it even challenging to afford that. For that very reason, we dedicated ourselves to offer affordable services and support.
It is at such a time that Dataanalysishelp.net come in to assist since at our firm we fully understand the financial circumstances of many scholars. We are also sure that you may be a great researcher but poor analyst and that's why we combine our efforts to ensure that the services we provide you with shall be very relevant.

Most Common Statistical Tests
T-test

Many students working on their dissertations and choose to use quantitative data analysis happen to use this hypothesis test in the analysis of their data and results. We have a team of experts familiar with the T-test and other statistical tests.

Regression

This among the most commonly used analytical tests by statisticians. Our services involve offering scholars help with their dissertations and research projects data analysis and interpretation. Best for predictive modeling and related outputs.

Z-tests

When the sample size of your research project is large and you aim to know how different the population means are, a Z-test is the best hypothetical test to use. We are able to help statistics, masters and Ph.D. students with their dissertation data analysis.
Chi-Square

Also preferred but not limited to large samples but for unpaired data. Almost every dissertation or thesis using bivariate analysis technique in the process of data interpretation. We have many experts to assist with Chi-squared test.

Correlation tests

This bivariate analysis technique measures how two metric variables relate linearly in a population. Since its applicable in many types of data sets, many scholars use it in their research projects and theses for quantitative data analysis.

Others | Non-parametric tests

Most data analysis and research questions major on regression, ANOVA, correlation, t-tests and other parametric tests. However, we are familiar and able to help with non-parametric tests like the Wilcoxon test, Mann-Whitney U tests and Spearman rank tests to interpret results.
Looking for GIS & Spatial Data Project Help Experts?
When we say that we are familiar with data analysis, research, management, and processing we mean to say that the experts we have hired know the procedures followed in explaining, illustrating, interpreting and assessing the data at hand. For GIS or spatial data computation, mapping, simulations or analysis we have many years of experience that you can rely on. Our GIS data analysis help experts are familiar with software that is necessary for geospatial data processing and interpretation. The fact that we offer very high-quality services doesn't imply that our charges are extreme since we fully understand that we work with people who have different financial backgrounds. This is one of the things that set us apart from other service providers, who might be in the help provision industry only for financial gains. We are sure that your dissertation or the project you are working on has a deadline to submit, and for that reason, we shall not delay you. We follow every instruction given to the letter, our experts' main objective is to maximally meet the demands of every client that chooses www.dataanalysishelp.net.