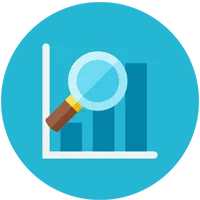 If you are a student working on a paper that requires data analysis such as a statistical research project or a dissertation on the location of features and boundaries around the earth, the major challenge you are likely to face is getting a better understanding of the data and materials that you've gathered. This is exactly a good reason to seek professional help with data analysis. You can never carry out a successful project whether it's a statistical or geographical data study, without first knowing the best data set or sample, the analysis method, the software to use, and any tests or simulations to do. We have Statistical and Geospatial data analysts who are capable to help with your GIS or statistical analysis. Due to minimal time, insufficient resources, and at times lack of professional skills, anyone who is working on a statistical analysis chapter, or geographical data processing assignment, may require some expert analysis help or statistician input or support on how to work with various data management software. This is where comprehensive is required, and many service providers are expensive and you may find it even challenging to afford that. For that very reason, we dedicated ourselves to offering affordable services and support. It is at such a time when Data Analysis Help comes in to assist since at our firm we fully understand the financial circumstances of many scholars. We are also sure that you may be a great researcher but a poor analyst and that's why we combine our efforts to ensure that the services we provide you with shall be very relevant.
Why Seek Experts' Help to Analyze Geospatial or Statistical Data
Analysis of the data associated with a certain geographical area using GIS software cannot be easy for most people. Luckily, we have experts who can help you analyze the geospatial data thereby producing very accurate results.
✓ Assistance in the statistical analysis of your dataset will be provided by qualified statisticians. Our experts have the relevant academic qualifications as well as the experience to handle tasks that involve complex software programs. That guarantees high accuracy in the results they will deliver.
✓ Professional help in the analysis of geographical or geospatial data will be offered at a fair price. We are a firm that really values our current and potential clients in terms of the pricing of our geospatial statistics data analysis services. You will be impressed by the results when you compare them with the pricing.
✓ Experts' assistance in the statistical data analysis will be provided without delays. Data Analysis Help statisticians have the ability to deliver services at the required time even if feedback is required by the client urgently.
MANOVA Tests in Ph.D. Dissertations | MSc Thesis Results Discussion Service | Open-Ended Questionnaire Writing Help | Best Data Collecting Method | Thesis Chapter 4 Redoing Help | Paid Thesis Data Analysts | Remote Sensing Thesis Topics | Reliable GIS Assignment Help | GIS Project Data Analysts | Secondary Data Case Study Questionnaire | Dissertation Results Analyzing Help | Quantitative Dissertation Data Analyzing | Dissertation Chapter 4 Finishing Help | Data Analysis Chapter Finishing Assistance | Remote Sensing Assignment Help | MBA Quantitative Data Analysts | Quantitative Dissertation Data Sampling Help

The data analysis section of a dissertation is very important. It is therefore not advisable for students to overlook it. The use of statistical methods in manipulating data can be complicated even for the most experienced students. Do not struggle to make things happen when you find it hard to analyze your data. It is wise to seek data analysis help from a reliable firm like ours. There are several principles and assumptions that a researcher must know before settling on the method or tool to analyze his or her data. Without that knowledge, you can get the wrong results which can invalidate your project. You will not have to worry about that because our data analysts are familiar with the theory and practical part of data analysis.
Most Common Statistical Tests in Data Analysis
T-test

Many students working on their dissertations and choosing to use quantitative data analysis happen to use this hypothesis test in the analysis of their data and results. We have a team of experts familiar with the T-test and other statistical tests.

Regression

This is among the most commonly used analytical tests by statisticians. Our services involve offering students help with their dissertations and research projects data analysis and interpretation. Best for predictive modeling and related outputs.

Z-tests

When the sample size of your research project is large and you aim to know how different the population means are, a Z-test is the best hypothetical test to use. We are able to help with statistical assignments & dissertation projects data analysis for Masters' and Ph.D. students.
Chi-Square

Also preferred but not limited to large samples but for unpaired data. Almost every dissertation or thesis uses a bivariate analysis technique in the process of data interpretation. We have many experts to assist with the Chi-squared test.

Correlation tests

This bivariate analysis technique measures how two metric variables relate linearly in a population. Since it's applicable in many types of data sets, many scholars use it in their research projects and theses for quantitative data analysis.

Others | Non-parametric tests

Most data analysis and research questions major on regression, ANOVA, correlation, t-tests, and other parametric tests. However, we are familiar with and able to help with non-parametric tests like the Wilcoxon test, Mann-Whitney U tests, and Spearman rank tests to interpret results.