Why Collecting Data is a Benefit in Creating Questionnaires?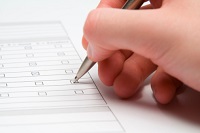 Have you ever taken time to determine how people gather information? Do you think that you can apply the same kind of techniques to collect data? If you are conducting research, which kind of survey can you apply? For many people, a questionnaire always comes in as the very first and best priority. There are various research methods, whereby every one of them may come with cons and pros. It is for you to choose the kind of a research method that will suit you, and as mentioned above, a questionnaire is the best research method to use. When we talk of a questionnaire, we refer to a very reliable instrument used in collecting data used to develop questionnaires, which involves responding to a given set of written or oral quizzes, by asking a specific subject. A well-developed questionnaire is very effective in measuring the attitudes, behavior, opinions, intentions, and preferences of relatively big numbers of various subjects in a much cheaper and quick method.
Seeking Help to Collect Data for Developing a Questionnaire?
You may have used a questionnaire or be considering using this research method, and here are some of the advantages you might have not yet identified.
Questionnaires are highly cost-effective
Among the most affordable means of gathering quantitative data is a questionnaire, especially when mobile and online surveys are used.
Questionnaires are very practical in gathering data
Besides being very flexible and cheap to use, questionnaires can also be referred to as the most sensible way of collecting data.
Questionnaires always guarantee speedy outcomes
When it comes to questionnaires, you will find that collecting results with mobile and online tools is very easy and quick. You will gain a very good insight within a very short time in as much as 24 hours.
Use of questionnaires to gather data do not need you to be a scientist
A large variety of questionnaires providers are quantitative, and they allow very easy analysis of the outcome. This is regarding well-built tools, which makes it very easy to analyze results even though you do not have a statistics research background.
Questionnaires will enable you to cover various aspects of a topic
Although respondents could find a long questionnaire quite annoying, you may still find time to ask as many questions as possible. You may keep every individual's questionnaire concise, but still; ask as many questions as possible.
Collecting data isn't a very easy thing, however, with our help; we will make your experience very easy and less tedious. Data Analysis Help will provide you with professional data collection help for developing questionnaires, at very affordable prices without any form of delays.